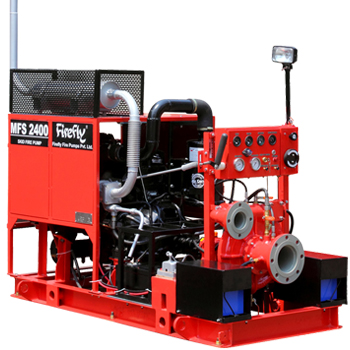 High Capacity Skid Fire Pumps
You are heare - >
Home
|
Products
|
High Capacity Skid Fire Pumps
---
Engine - Diesel Engine
Performance - 2000 l/min to 6000 l/min


Overview
Pump
Equipment
Performance
Control Panel
Engine
Firefly's offers a wide range in Skid Fire Pumps wherein we combine range of diesel engines with our time proven & reliable pumps to exceed your flow & pressure needs.

This range can be customized as per your needs to make it perfectly suitable for your application.
'FIREFLY' make single stage centrifugal Fire Pump directly coupled with suitable Diesel engine through a flexible coupling.
Pump Capacity - Available from 2000 LPM to 6000 LPM
Pressure - Maximum up to 12 bar
Overall Pump Construction - Gunmetal / Stainless Steel (Light weight Aluminium available on request)
Fitted with maintenance free Mechanical Carbon Seal.
Suction & Delivery Outlets - As per customer needs.
Primer - Highly reliable & extremely fast Exhaust Primer or Completely Automatic Reciprocating Piston
Primer - Capable of Lifting from 7.5 meters suction height within 30 seconds. Maximum lifting capacity is from 9 meters.
Pump shall be fitted with step up gear box of suitable ratio to let engine & pump to run at their maximum efficiency.
Complete unit is mounted on a heavy duty base frame for fixed installation
Complete assembly can be offered in two type of mountings -
1. Completely open mount
2. Completely closed with acoustic cover
Unit comes as ready to install package.
Minimum Flow

Maximum Flow

Pressure

2000 LPM

6000 LPM

Up to 12 bar

Any pump performance in above range can be supplied as per your requirement.
| | |
| --- | --- |
| | The pump is provided with following controls |
| | Engine Throttle |
| | Pressure Gauge |
| | Compound Gauge |
| | Engine On-Off Switch |
| | Hours Meter |
| | Primer Control |
| | Lube Oil Pressure Gauge |
| | Engine Coolant temperature gauge |
| | Ampere meter |
| | Fuel Level Gauge |
| | |
| --- | --- |
| | Diesel engine of suitable capacity shall be provided. |
| | Make - Ashok Leyland / TATA / Kirloskar / MAN |
| | Water - Cooled. Heavy duty radiator along with closed loop circuit heat exchanger provided as standard for better cooling. |
| | Fuel - Diesel |
| | Fuel Tank Capacity - sufficient to run the pump at rated duty point for not less than 3 hours. |
| | Battery starter provided as standard. |
| | Alternator provided to charge the battery during operation. |
Impresses With

Modular design to suit your needs


High in performance - compact in size


Many options for engine selection


Any performance up to 6000 LPM possible


Maximum pressure up to 12 bar

Trailer Mounted Fire Pump Video